Luke Gartlan at Folkwang University of the Arts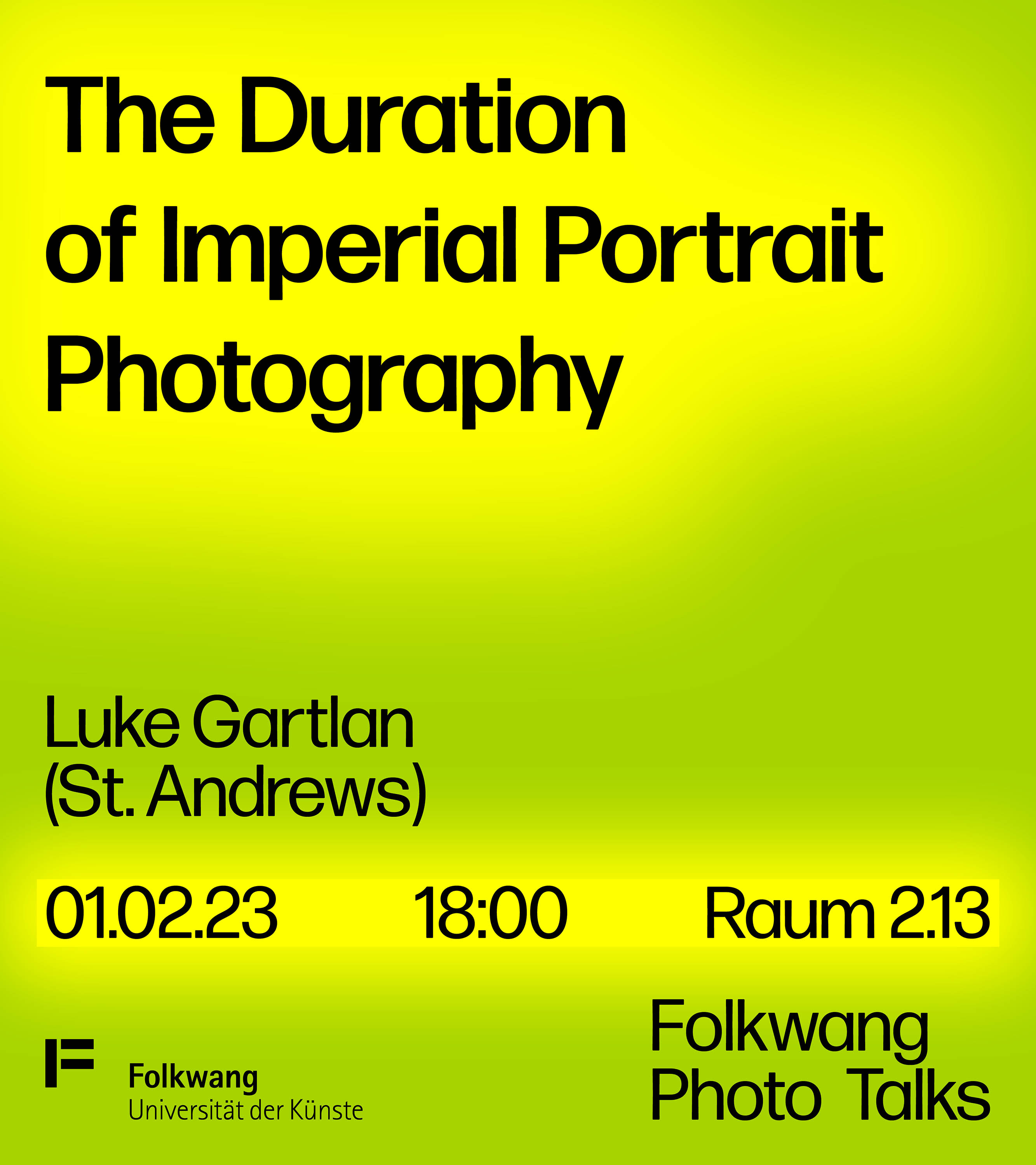 1.2.2023
On Wednesday, February 1st, 2023 (6 pm CET), the department of photography at Folkwang University of the Arts will have the pleasure to welcome from the University St. Andrews in Essen. Luke will give the sixth Folkwang Photo Talk, speaking about »The Duration of Imperial Portrait Photography«. (See abstract below.)
The talk will take place at  and will also be streamed online. For a Zoom link, . We welcome all friends of photography to join us.
Luke Gartlan's talk will also open the research colloquium for the , which will take place on February 2 and 3, 2023, and is aimed at master's candidates and doctoral students both inside and outside Folkwang University of the Arts.
Luke Gartlan is one of the most internationally renowned photo historians. For a long time now, the focus of his work has been on the transcultural interweaving history of the photographic. In 2016, his monograph »A Career of Japan: Baron Raimund von Stillfried and Early Yokohama Photography« was published and awarded the Josef Kreiner Prize for International Japanese Studies. He is also co-editor of »Photography's Orientalism: New Essays on Colonial Representation« (2013) and »Portraiture and Early Studio Photography in China and Japan« (2017). From 2013 to 2018, he was the editor of the journal .
Abstract: Irrespective of their differences, theoretical approaches to the portrait photograph have often emphasized the encounter or the event between the photographer and sitter. Colonialist visual culture, however, is less concerned with the contingent or the temporary than the persistent repetition and maintenance of the status quo over generations. In this paper, I intend to address the imperial portrait photograph in its durational modes, extended both in the codes and practices of the sitter's inherited privilege and networks and in the material object's afterlives into the present. The Victorian portrait photograph operates not in isolation as a statement of individual subjecthood so much as within exclusionary networks of family, empire, nation, and community that are already presupposed in the portrait session. This paper builds on research into five families in nineteenth-century St Andrews and their parallel pursuit of early photography and colonial »enterprise«. I will address two case studies: firstly, a collage group assembly of the Playfair family and, secondly, the photographic portraits of General James Hope Grant produced in St Andrews, India, and China. In bringing these materials and histories together, I aim to question frameworks of 'provincial' portrait photography that have divested the rural and small-town family album of its colonialist engagements, presumptions, and durational archival functions.